Although it had been in the cards for a few days already, the tandem initiation of the blogger's stoker-to-be in an upcoming race was executed upon as planned. Despite the fact that the weather gods had given ample forewarning on the fact that the designated day would be the hottest one since man recorded early-July temperatures in this area (or something like that). Temps well into the three-digit degrees Fahrenheit, even in the shawdow, were to be expected.
The combination of wobbly tandem bikers and challenging weather conditions called for a ride with as few vertical meters as possible in the rolling hills (or worse) of Taunus area. So another ride to Limburg was called for, this time not for pleasurous consumption of culture and history, but for serious training purposes.
And serious it got, a couple of times, when the unexperienced and non-coordinated captain/stoker team unvoluntarily ran a handful of spontaneous experiments in practical physics and mechanics, aggrevated by test runs of leverage effect settings (How big is the effect of an abrupt turn of the handle bars or a run through a deep pot hole on the stoker's comfort three feet back?).
However, after only about 10K, the Team deserved that designation rightfully – and was challenged immediately with physics again, this time with thermodynamics: It was already hot enough to very dynamically be drawn into the next possible pit stop that promised a cooling effect: outwardly by the freezingly cold air condition, and inwardly by the ice-cream purchased there. Which – next challenge – inevitably lead to a terrible feeling of thirst, to be quenched by bathtub-warm water from the bidons only. Coming to a map that shows the area of Selters where the world-famous mineral water comes from, wasn't really very helpful at this point in time. While Dyl Ulnspegel could satisfy his hunger by just smelling the odors from other guests' plates, the similar attempt of rehydrating dry tounges by just reading about Selters failed to do the trick.
But Lady Luck was with the lonely riders and led their way past an idyllic little tavern/café situated in the middle of the cool and shadowy woods. What an oasis – especially since cool drinks were served despite the fact that the time was long before opening hour (so maybe it wasn't so much Lady Luck but the kind and sympathetic Patron Lady of the café who is to praise here).
A huge Thank You to you, Kind Lady of the Woods Café, for having taken the time out of your busy day (you had to rush off to give a seminar) to prevent the miserable melt down of two poor tandem riding souls. May your kindness be your gate to Happiness!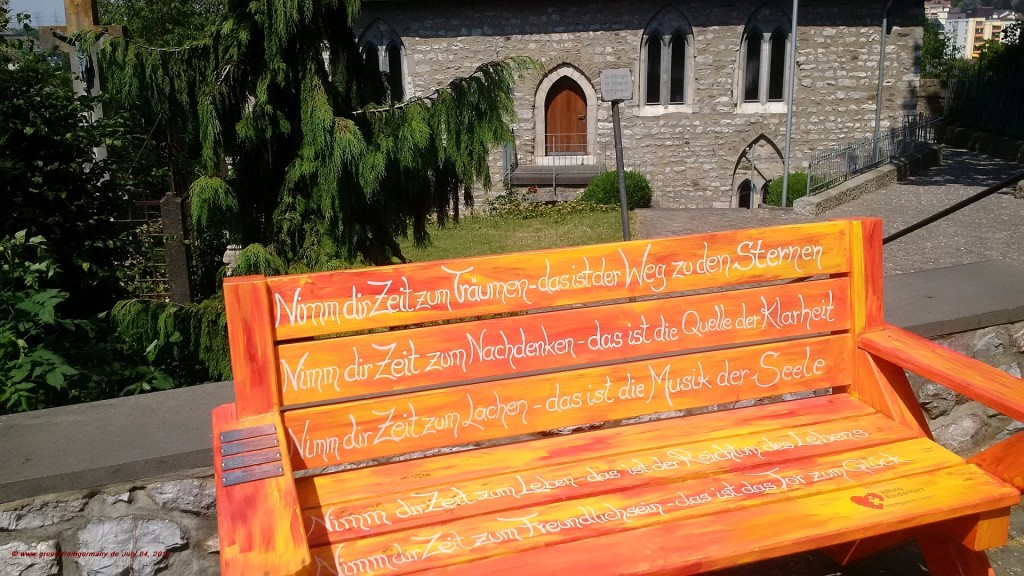 &copy Copyright 2015
bxa
, All rights Reserved. Written For:
bxa's Greetings from Germany