183 – this is the number of riders going past the author today during the brisk 35-minute walk on a little less than 4K of Melbourne's Capital City Trail.
No wonder there are even counting devices installed – no human being could keep up with the buzz and whizz of bike commuters going by in the mornings.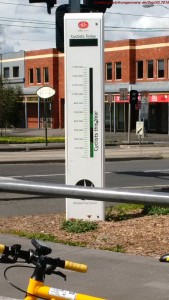 A few days ago, on a very nice and warm sunny morning, over 800 bikers had passed the counting site prior to 8.10am, when the blogger pedaled by. And 12 hours later, the count was well over 3,200 riders in that rather residential area.
Tomorrow will be bike-to-work day (and the blogger can bike again, too). We'll see if the meter will hit the 4,000-riders/day mark.
&copy Copyright 2016
bxa
, All rights Reserved. Written For:
bxa's Greetings from Germany